In the 2009 ASME HPVC east Olin's team placed 3rd overall out of 20 teams in the speed class, behind Rose-Hulman and Missouri S&T. Highlights of the 2009 build season include our infamous "golf ball" fairing and a great 3rd place finish in the Women's sprint event.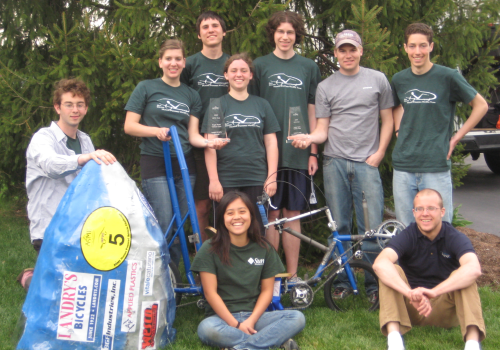 Competition Vehicle - Helios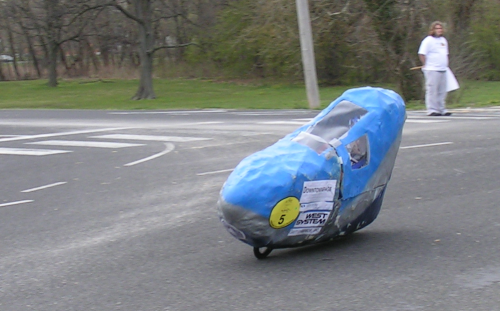 Helios was our competition vehicle for 2009. The vehicle is a traditional low-riding recumbent; see more details on Helios in the table below or take a look at our design report. The most interesting part of the build was our fairing construction, which involved designing a fairing shape in solidworks CAD and then constructing this shape out of a cardboard honeycomb for layup.
Download our 2009 Design Report
Details
Frame

4130 Chromoly Steel

Drivetrain

7-Speed Rear-Wheel Drive

Wheels

16" Front, 20" Rear

Seat

Wood; Ten inches of travel with adjustment via two quick-release clamps sliding on the main tube.

Fairing

Fiberglass & Kevlar; Wet layup on interior and exterior of a cardboard "honeycomb" mold; resulted in "golf-ball" finish.
Prototype Vehicle - B-Wagon
The prototype vehicle built in fall 2008 was the B-Wagon, and has become one of the stable bikes of Olin HPV. This bike is very similar to Helios but has a shorter wheel base and the rear derailer has since been removed, making it a single-speed. The handling of B-Wagon is very forgiving - this is the first bike we give anyone who is just learning how to ride a recumbent.