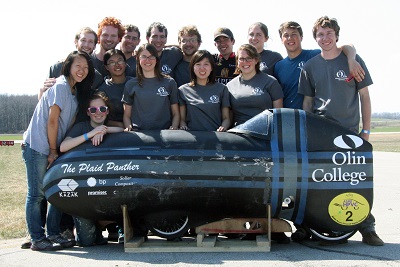 Fall Vehicle Build-Off
After finishing up our 2013 season, the team decided to explore new vehicle concepts for the upcoming year. As part of this exploration phase, we are currently in the middle of a vehicle build-off challenge where we have split into two sub-teams to quickly build vehicles to test new concepts. One team is working to build a monowheel while the other is working on a leaning tricycle. We expect these projects to be done by the end of the fall semester. In the spring, we will work to design and build our competition vehicle.
About Olin
The Franklin W. Olin College of Engineering is a small undergraduate engineering college in Needham, MA, on the outskirts of Boston. Olin College was established in 1997 by the Olin Foundation in order to create a new model for engineering education with a project-centric curriculum.