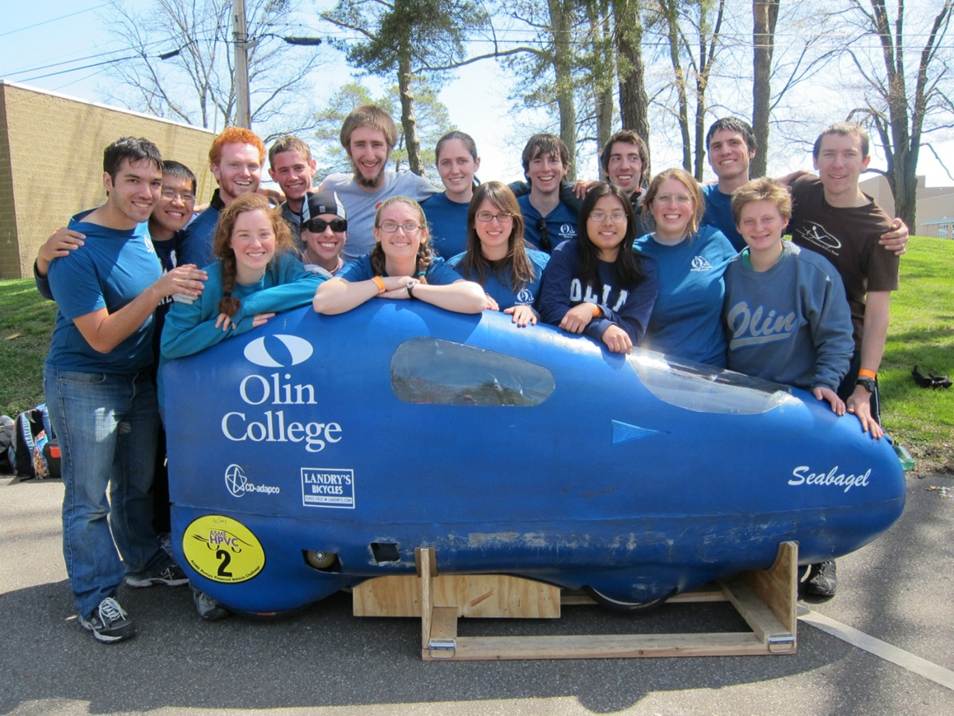 2012 Season Wrap-Up
The team performed very well at the ASME Human Powered Vehicle Challenge, winning third place overall and winning the Knovel award for design innovation. Furthermore, our finished bike had no major breakdowns at the competition, allowing us to perform quite strong.
In addition to placing well at the competition, the team built our highest quality vehicle ever this year. We took a big leap in building a structural monocoque carbon fiber shell, which made our vehicle stronger and safer than ever before. We also improved aerodynamics and accessibility with innovative rider variation compensation and slow speed stability systems.
About the Team
We are the Olin College of Engineering Human Powered Vehicles Team. Each year, we design, build, and race a vehicle at ASME's Human Powered Vehicle Challenge. We strive for a fast and efficient vehicle, and we design so that all of our riders can comfortably ride the vehicle.
About Olin
The Franklin W. Olin College of Engineering is a small undergraduate engineering college in Needham, MA, on the outskirts of Boston. Olin College was established in 1997 by the Olin Foundation in order to create a new model for engineering education with a project-centric curriculum.
Our Generous Sponsors
What we do is only possible because of the generous contributions of our team's sponsors.
The team is currently sponsored by Landry's Bicycles, Kazak Composites and CD-adapco. The team also has recieved generous donations from a number of private donors.