Olin College had it's best showing yet at the 2011 ASME Human Powered Vehicle Challenge by sweeping Speed Class. That includes first place finishes in the Design Report, Men's and Women's Sprint, and Endrance Race leading to first place overall in the Speed Class!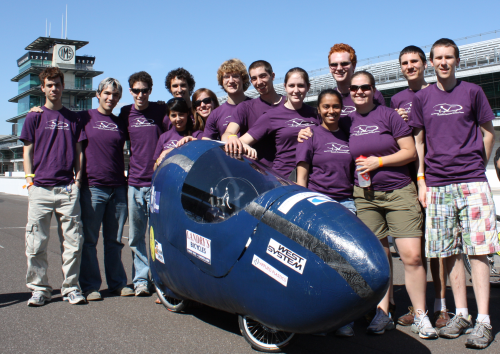 Competition Vehicle - Shadowfax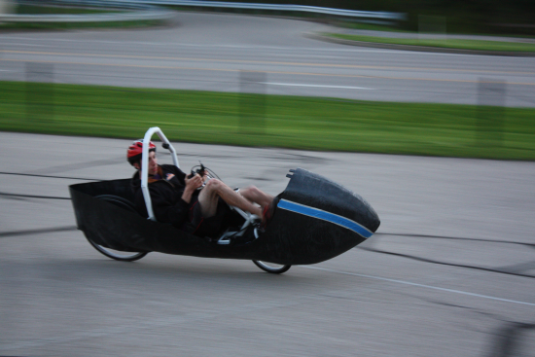 Shadowfax was our competition vehicle for 2011. The overall vehicle is a very traditional recumbent, see the table below for more information. The fairing for Shadowfax is made of two layers of carbon-fiber, which was formed in two halves using a male mold made from foam. You can find out more about our vehicle and fabrication techniques by downloading our full design report.
Download our 2011 Design Report
Details
Frame

4130 Chromoly Steel

Drivetrain

8-Speed Rear-Wheel Drive; 53T crankring, 20T-22T exchange, 8 speed sprocket.

Wheels

16" Front, 20" Rear; Both wheels were outfitted with disc brake hubs and disc brakes.

Seat

Steel Frame with Woven Fabric; This new seat fabrication was a huge improvement (in both weight and comfort) over previous wood seats.

Fairing

Carbon Fiber; Male molds were constructed with foam. Lay-up assisted via vacuum bagging.
Prototype Vehicle - Bilius
Bilius was our prototype vehicle built in the fall of 2010. Many concepts and new methods were tested on Bilius. The most notable features are non-linear stearing achived via two elipses and a taught cable, a front fork with multiple dropouts for testing rake and trail, and welding using a new frame jig constructed from 80-20 extrusion.