Olin College had it's best showing to date at the 2010 ASME Human Powered Vehicle Challenge, placing second in the Speed Class. The team placed 2nd in the design report, 5th in the women's drag race, 3rd in the mens drag race, and 4th in the endurance race.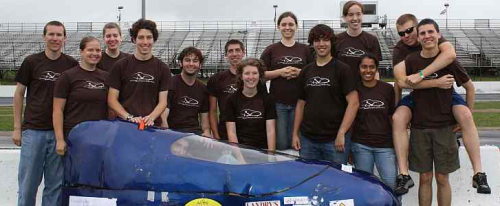 Competition Vehicle - Bucephalus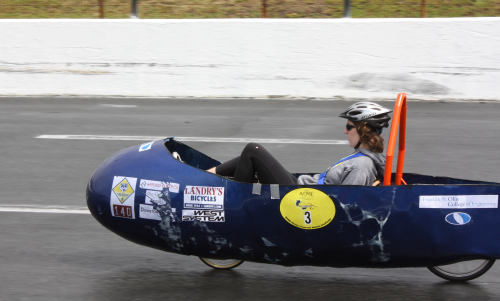 Download our 2010 Design Report
Details
Frame

4130 Chromoly Steel

Drivetrain

7-Speed Front-Wheel Drive

Wheels

16" Front, 20" Rear

Seat

Wood; Fixed base with 12" of lateral adjustment and four angle positions.

Fairing

Fiberglass; Many layers of fiberglass lay-up on a balloon mold. Finished with Bondo.
Prototype Vehicle - Unsinkable Sam
Unsinkable Sam was the prototype vehicle built in the fall of 2009. Highlights include successful implementation of under-the-seat stearing and a successful front-wheel drive drivetrain.